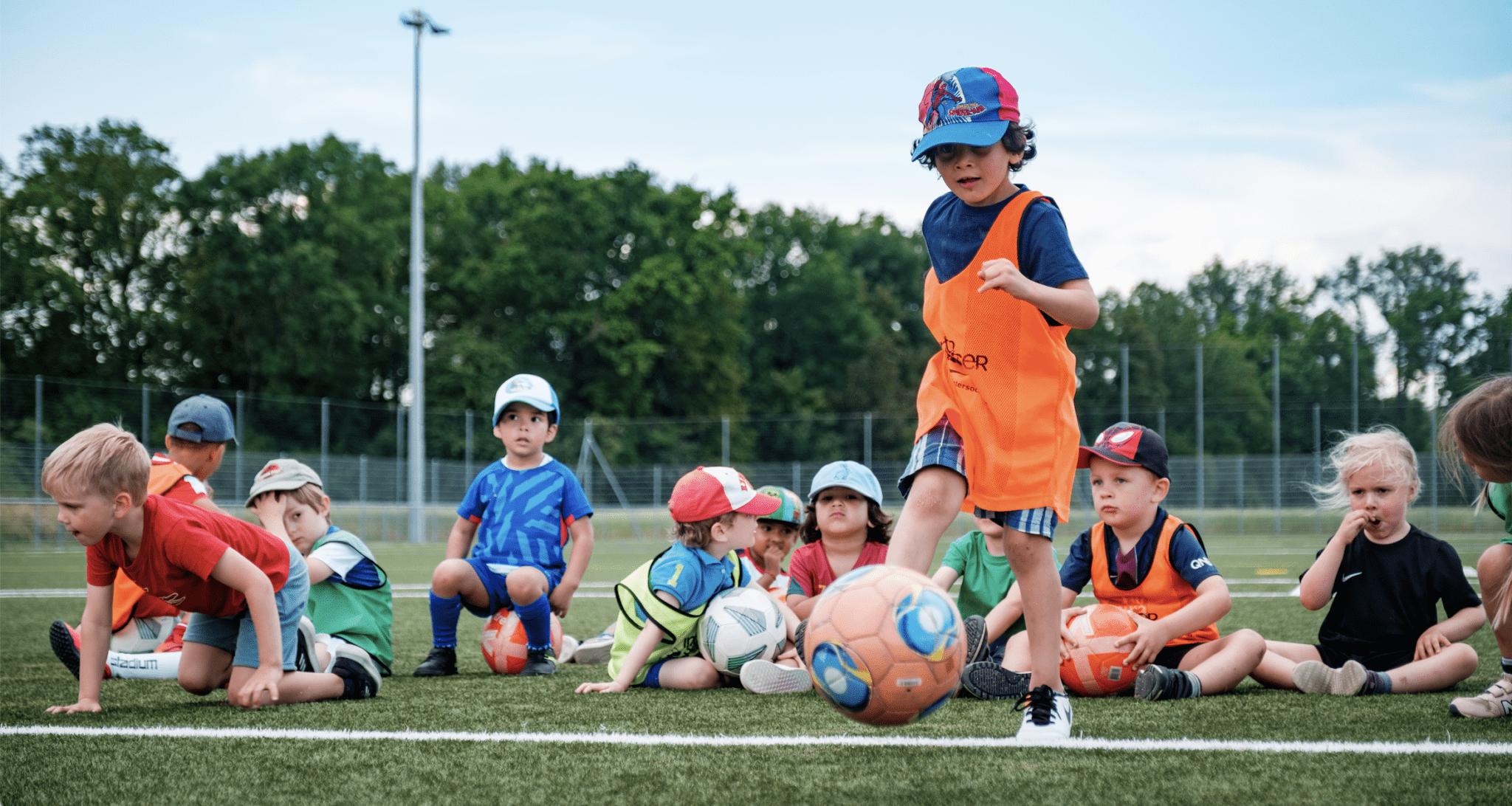 InterSoccer Autumn Weekend Football Courses for Kids run every Weekend morning during the school term and provide training with qualified international Coaches.
IntersSoccer gives a fantastic chance to learn about tactics, be part of a team, and play small-sided matches. It's also a great opportunity to meet new Friends, keep fit and healthy, and have lots of Fun!
Weekend Mini Soccer is a great & a fun introduction to Soccer for Boys & Girls aged 3- 4 of All Abilities.
Like any team sport, Football helps develop team spirit and respect for others. Toddlers learn to celebrate their victories and to stand united after a loss. On a physical level, during a Football match, the whole body is involved. Coordination and fun games are an important part of our weekend mini-soccer courses, as they help young players develop their motor skills and improve their control over the ball. These activities also make the learning experience more enjoyable and engaging for the children.
Mini-soccer is all about having Fun, enjoying the game of Football with Friends, and always practicing Fair play, which aligns with our core values.
Our Weekend Football Courses for Kids offer the following: 
Courses run throughout the year, during the school term.

1h30 long session.

Qualified international Coaches providing professional & fun activities, and;

A lot of fun ball games developing Children's coordination, movement & basic Football skills, as well as;

Stimulating coaching topics every week.

A friendly & safe environment with First Aid qualified Coaches.

The Courses are generally in English, but most Coaches are bilingual and can speak French or German as well, and;
InterSoccer is offering a FREE TRIAL session for you and your Child to get a feel of what our Courses are all about. Choose your favourite Course from our selection and then experience it firsthand – free of charge!
What to bring?
Print out the Book Online Confirmation and bring it on the first day.

Soccer boots for grass pitches or sport shoes, and;

Sports shirt/top, shorts or tracksuit bottoms, as well as;

If courses are indoor -during winter, please bring indoor sports shoes & make sure they are clean and non-marking.

Water bottle.

Hat & gloves advisable in cold weather -if outside, and;
Warm rain jacket -if outside, as well as;

Hat/Caps & sun cream should be worn during warmer weather when outside.
Please label all clothing/equipment that your children bring.
For younger children, please make sure your child has been to the toilet before the start of the course.
How to join?
Payment to be made via Book Online before the start of the course, to guarantee your place and receive the best rate per session.
If a parent misses the Book Online deadline, then the pitchside payment (higher fee) should be paid by BANK PAYMENT (receive from coach or office) to secure your place.
Please see FAQ's for more info or the VENUES page for all venue locations.
Safety and Code of conduct
Leave your children before games or training only after making sure that an educator is present. It is the parents' duty to explain certain rules of good conduct so that the children agree to respect the team and coaches, but also the equipment made available. Prevention is always more positive than repression.
Weekend Mini Soccer Course Times –
Please select your desired season & location