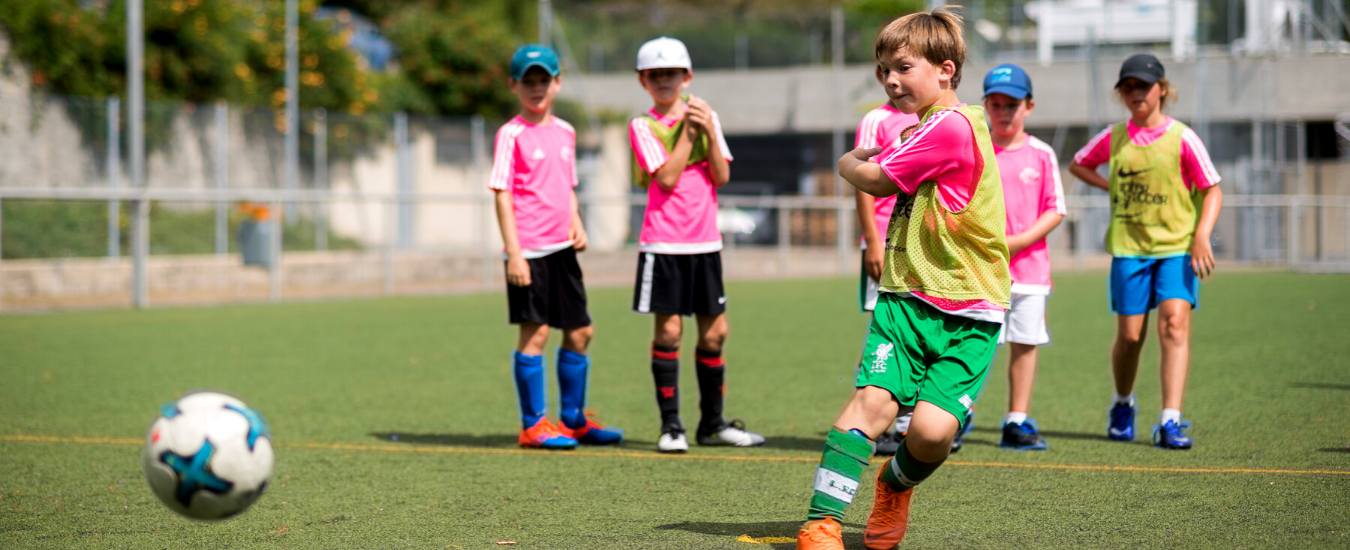 Junior Summer Camps are designed to develop the fundamentals of football in a competitive and fun environment. Players of all skill levels will be challenged in a variety of traditional and progressive drills that aim to develop each player's skill and understanding of the game.
At InterSoccer, we believe that all children should play soccer, whether they are new or experienced! Junior Summer Camps days are for those who want to have fun while also revealing new challenges. It is a fun and competitive introduction to Football for Boys and Girls ages 5 to 9.
There is a camp in your area!
Geneva – Versoix – Nyon – Etoy – Lausanne – Zug – Zurich – Basel
You can register your children from 1 to 5 days!
Program Summary
8:30 -10:00
Early reception of trainees. Children will participate in activities until the start of football camp. They will then be offered to play quizzes and participate in interactive activities. Coloring books will be distributed to the little ones.
10:00-12:00
First training session, learning technical skills
12:00-13:00
Lunch break
1:00 to 3:30
Second training session and other ball games.
3:30 to 3:45 
Break
3:45 – 5:00
Matches and end of activities
5:00 p.m. / 6:00 p.m. *
Departure of children
* Possibility to pick up your children until 6:00 p.m. * – option to be reserved in advance
Meals
Midday meals are included at many sites in summer for full-day formula camps only.
meals are adapted to our trainees
We favour healthy meals and offer menus including a starter, a main course, and a dessert (fruit, ice cream occasionally in periods of high heat).
Depending on the region, we can adapt the menus for vegetarian and vegan diets, as well as menus suitable for people with gluten or nut allergies. Just let us know when registering. Remember to bring snacks because the day is long.
Children can also buy fruit, snacks, and drinks at the refreshment bar (if available at the campsite).
Awards Ceremony: Funky Friday
Every Friday during the courses: the FUNKY FRIDAY, all the children and the coaches dress up, play, and organize the election of the best costume. A closing ceremony is organized to reward all academics.
| | |
| --- | --- |
| | Everyone has a medal |
| | A certificate of participation in the Summer Camps |
| | A T-Shirt offered from 3 days of camp |
The little extras that make all the difference!
You can drop off your children from 8:30 a.m. *
Late pick up is until 6:00 p.m. – Option to book in advance
Flexibility: Registration from 1 to 5 days
FAMILY DISCOUNTS available
Bilingual/trilingual coaches
Multicultural environment
Possibility to learn English
Opportunity to meet new friends and improve self-confidence;
Team Building, sportsmanship, and fair play are encouraged.
A friendly and safe environment with qualified first aid coaches.
Mini-matches and tournaments
Qualified international coaches providing professional and fun training
Stimulating training and football challenges including dribbling, passing and shooting … etc
Other Age categories
At InterSoccer we also offer camps for girls and older children:
How to join?
Payment to be made via Book Online before the start of the camp, to guarantee your place.
Please see FAQ's for more info or the VENUES page for all venue locations.
What to bring?
Print out and bring the Book Online Confirmation.

Soccer boots for grass pitches or sport shoes, as well as;

Sports shirt/top, shorts or tracksuit bottoms, and;

Snacks -it's a long day.
Packed lunch -if non included.
Drinks bottle -refill available on site.

Hat & gloves advisable in cold weather.

Warm rain jacket and spare clothes in case of adverse weather.

Hat/Cap & Sun cream should be worn during warmer weather when outside -parents should apply sun cream before arrival at camp.
Please label all clothing/equipment that your children bring.
For younger children, please make sure your child has been to the toilet before the start of the camp.
Safety and code of conduct
Leave your children before games or training only after making sure that an educator is present.
It is the parents' duty to explain certain rules of good conduct so that the children agree to respect the team and coaches, but also the equipment made available.
Prevention is always more positive than repression. Indeed, in the event of non-compliance with the rules during a camp or course, the latter will not be reimbursed.
Meteo
Whatever the weather conditions, our camps take place. Indeed, in case of bad weather, the coaches offer fun games, interactive activities and card games. In addition, many of our venues have indoor facilities.
*The children will have team building activities until the beginning of the camp. During this time, they will be proposed to play some quizzes and interactive activities. Some colouring books will also be provided.
Junior Summer Camp Times –
Please select your desired location
Camp Type
Dates
Venue

Time:

Time

Cost Online:

Cost Online

Cost Pitchside:

Cost Pitchside

Ages:

Ages
Booking Status
Parents Must-Read
Junior Camp
28 Jun – 2 Jul
Centre sportif de Vessy
1000 – 1700
CHF 540
(CHF 115 for single days)
CHF 580
(CHF 125 for single days)

5 - 9

Book online until day before 18:00
View Notes & Holidays

Important Camp Notes

Early drop off possible from 8h30 onwards.

Lunch is provided.

Camp is from 10:00 to 17:00 with the possibility of late pick up at 18h00

CHF 25 has to be paid per day late pick up, please contact the office for that option at info@intersoccer.ch

Junior Camp
28 Jun – 2 Jul
Grand-Saconnex, Centre Sportif du Blanché
1000 – 1700
CHF 540
(CHF 115 for single days)
CHF 580
(CHF 125 for single days)

5 - 9

Book online until day before 18:00
View Notes & Holidays

Important Camp Notes

Early drop off possible from 8h30 onwards.

Lunch is provided.

Camp is from 10:00 to 17:00 with the possibility of late pick up at 18h00

CHF 25 has to be paid per day late pick up, please contact the office for that option at info@intersoccer.ch

Junior Camp
5 Jul – 9 Jul
Centre sportif de Vessy
1000 – 1700
CHF 540
(CHF 115 for single days)
CHF 580
(CHF 125 for single days)

5 - 9

Book online until day before 18:00
View Notes & Holidays

Important Camp Notes

Early drop off possible from 8h30 onwards.

Lunch is provided.

Camp is from 10:00 to 17:00 with the possibility of late pick up at 18h00

CHF 25 has to be paid per day late pick up, please contact the office for that option at info@intersoccer.ch

Junior Camp
5 Jul – 9 Jul
Grand-Saconnex, Centre Sportif du Blanché
1000 – 1700
CHF 540
(CHF 115 for single days)
CHF 580
(CHF 125 for single days)

5 - 9

Book online until day before 18:00
View Notes & Holidays

Important Camp Notes

Early drop off possible from 8h30 onwards.

Lunch is provided.

Camp is from 10:00 to 17:00 with the possibility of late pick up at 18h00

CHF 25 has to be paid per day late pick up, please contact the office for that option at info@intersoccer.ch

Junior Camp
12 Jul – 16 Jul
Centre sportif de Vessy
1000 – 1700
CHF 540
(CHF 115 for single days)
CHF 580
(CHF 125 for single days)

5 - 9

Book online until day before 18:00
View Notes & Holidays

Important Camp Notes

Early drop off possible from 8h30 onwards.

Lunch is provided.

Camp is from 10:00 to 17:00 with the possibility of late pick up at 18h00

CHF 25 has to be paid per day late pick up, please contact the office for that option at info@intersoccer.ch

Junior Camp
12 Jul – 16 Jul
Grand-Saconnex, Centre Sportif du Blanché
1000 – 1700
CHF 540
(CHF 115 for single days)
CHF 580
(CHF 125 for single days)

5 - 9

Book online until day before 18:00
View Notes & Holidays

Important Camp Notes

Early drop off possible from 8h30 onwards.

Lunch is provided.

Camp is from 10:00 to 17:00 with the possibility of late pick up at 18h00

CHF 25 has to be paid per day late pick up, please contact the office for that option at info@intersoccer.ch

Junior Camp
19 Jul – 23 Jul
Centre sportif Bout-du-Monde
1000 – 1700
CHF 540
(CHF 115 for single days)
CHF 580
(CHF 125 for single days)

5 - 9

Book online until day before 18:00
View Notes & Holidays

Important Camp Notes

Early drop off possible from 8h30 onwards.

Lunch is provided.

Camp is from 10:00 to 17:00 with the possibility of late pick up at 18h00

CHF 25 has to be paid per day late pick up, please contact the office for that option at info@intersoccer.ch

Junior Camp
26 Jul – 30 Jul
Stade de Frontenex, Cologny
1000 – 1700
CHF 540
(CHF 115 for single days)
CHF 580
(CHF 125 for single days)

5 - 9

Book online until day before 18:00
View Notes & Holidays

Important Camp Notes

Early drop off possible from 8h30 onwards.

Lunch is provided.

Camp is from 10:00 to 17:00 with the possibility of late pick up at 18h00

CHF 25 has to be paid per day late pick up, please contact the office for that option at info@intersoccer.ch

Junior Camp
2 Aug – 6 Aug
Stade de Frontenex, Cologny
1000 – 1700
CHF 540
(CHF 115 for single days)
CHF 580
(CHF 125 for single days)

5 - 9

Book online until day before 18:00
View Notes & Holidays

Important Camp Notes

Early drop off possible from 8h30 onwards.

Lunch is provided.

Camp is from 10:00 to 17:00 with the possibility of late pick up at 18h00

CHF 25 has to be paid per day late pick up, please contact the office for that option at info@intersoccer.ch

Junior Camp
9 Aug – 13 Aug
Centre sportif de Vessy
1000 – 1700
CHF 540
(CHF 115 for single days)
CHF 580
(CHF 125 for single days)

5 - 9

Book online until day before 18:00
View Notes & Holidays

Important Camp Notes

Early drop off possible from 8h30 onwards.

Lunch is provided.

Camp is from 10:00 to 17:00 with the possibility of late pick up at 18h00

CHF 25 has to be paid per day late pick up, please contact the office for that option at info@intersoccer.ch

Junior Camp
16 Aug – 20 Aug
Centre sportif de Vessy
1000 – 1700
CHF 540
(CHF 115 for single days)
CHF 580
(CHF 125 for single days)

5 - 9

Book online until day before 18:00
View Notes & Holidays

Important Camp Notes

Early drop off possible from 8h30 onwards.

Lunch is provided.

Camp is from 10:00 to 17:00 with the possibility of late pick up at 18h00

CHF 25 has to be paid per day late pick up, please contact the office for that option at info@intersoccer.ch
Book Online