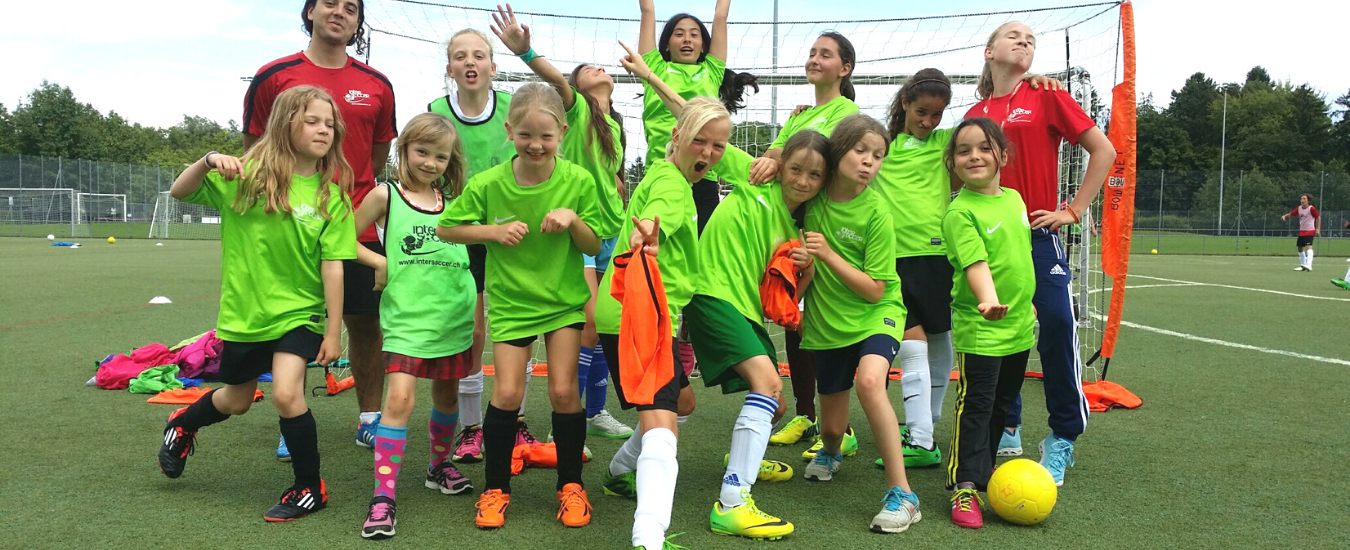 ---
The Girls-Only Summer Camps are the perfect opportunity for Girls, of all abilities, to have fun and learn how to play football, while improving their skills & techniques. It's a great way to introduce football to Girls aged from 5 to 13 years. For 1-5 days until early drop off also available (08:30).
Football is no longer considered a male sport and we want to increase female participation through a rich and varied program of activities. Our girl players learn step by step the art of mastering the ball. It is a week of fun football game exercises. Our Girls-Only Summer Camps take place during the school summer holidays, starting from late June until late August. In addition, these are full-day camps, going from 10:00 to 17:00, and are run by qualified coaches with experience coaching girls. For these camps, it is possible to join for one to five. Find out more in the following:
To book a single-day camp using the code, please contact info@intersoccer.ch
The Girls Football Camps Calendar
Zurich
Camp starts from 10:00 to 17:00
June 27 – 1 July @ ICS Inter-Community School Zürich (Zumikon)
Geneva
Camp starts from 10:00 to 17:00
4 – 8 July @ Stade de Varembé, Trembley pitch (near Nations)
11 – 15 July @ Centre Sportif de Vessy (near Champel)
15 – 19 August @ Stade de Varembé, Trembley pitch (near Nations)
Versoix
Camp starts from 10:00 to 17:00
8 – 12 August @ Centre Sportif de Versoix (near Coppet)
The Girls-Only Camps Programme
08:30 – 10:00
Early reception of the players. They can participate in activities or even relax until the start of the football camp.
10:00 – 12:55
Warm-ups. Fun games & exercises to help improve technical skills + movement & coordination
13:00 – 14:30
Hot Lunch break & Free time
14:30 – 17:00
Fun games, skills & technical exercises. Small-sided Matches & Fun Tournaments
17:00 – 18:00 *
Children's departure
* Possibility to pick up your children until 18:00 – option to be reserved in advance
Awards Ceremony: Funky Friday
Every Friday during the courses: the FUNKY FRIDAY, all the children and the coaches dress up, play, and organise the election of the best costume. A closing ceremony is organised to reward all academics.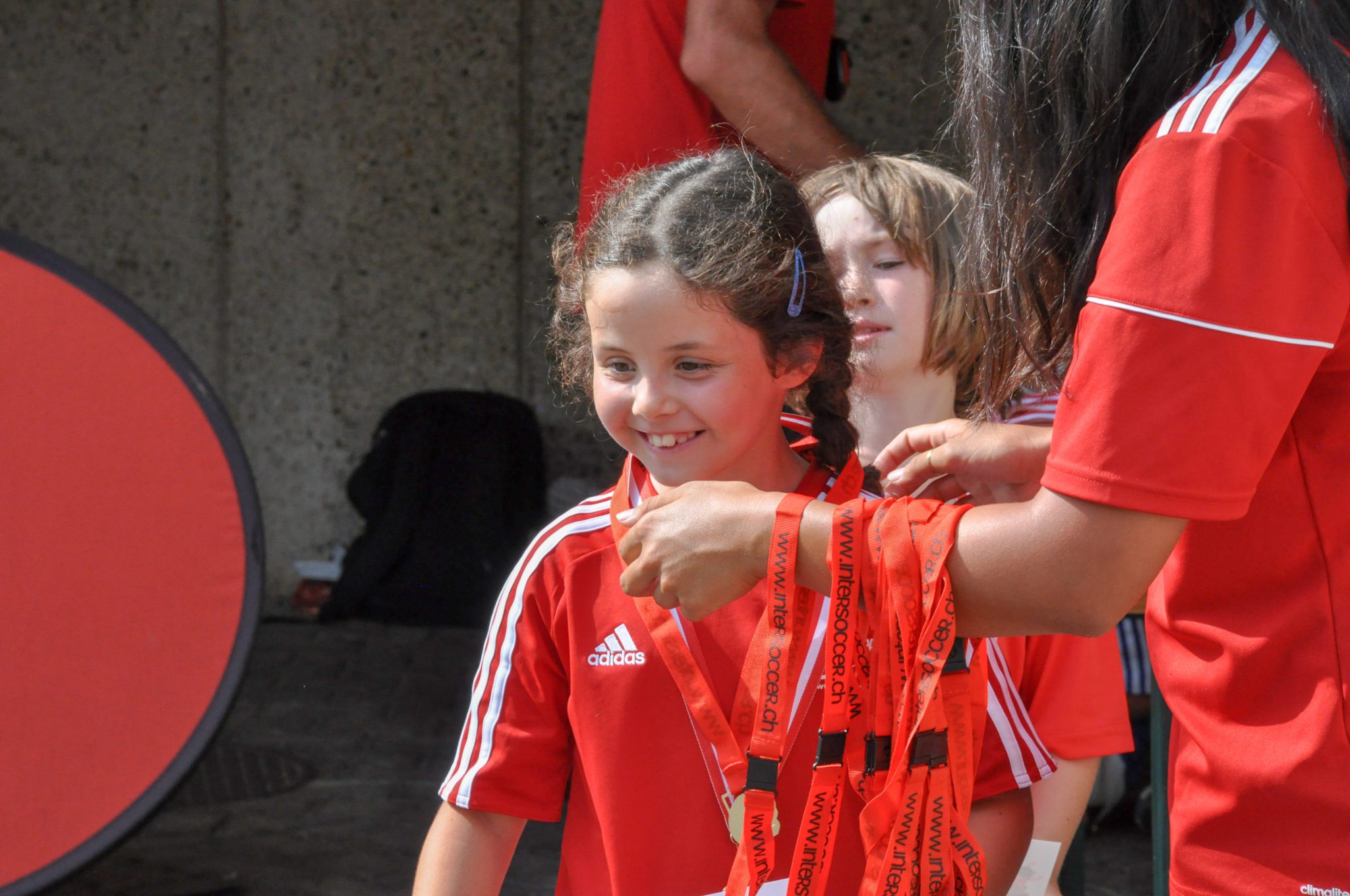 Everyone has a medal
A certificate of participation in the Summer Camps
A T-Shirt offered from 3 days of camp
The little extras that make all the difference!
You can drop off your children from 08h30 *
Late pick up is until 18h00 – Option to be booked in advance
Flexibility: Registration from 1 to 5 days
FAMILY DISCOUNTS available
Bilingual/trilingual coach
Multicultural environment
Possibility to learn English
Opportunity to meet new friends and build self-confidence;
Team spirit, sportsmanship and fair play are encouraged.
A friendly and safe environment with qualified first aid coaches.
Mini-matches / tournaments
Qualified international coaches providing professional and fun training
Stimulating training and football challenges including dribbling, passing and shooting … etc
Meteo
The camps will go ahead no matter the weather conditions. The coaches have fun games, team-building activities, quizzes, card games and colouring books in the case of bad weather.
*The children will have team-building activities until the beginning of the camp. During this time, they will be proposed to play some quizzes, card games, and interactive activities. Additionally, for the youngest ones, some colouring books will also be provided.
How to join?
Payment is to be made via Book Online before the start of the camp, to guarantee your place.
Please see FAQ's for more info or the VENUES page for all venue locations.
What to bring?
Print out and bring the Book Online Confirmation.

Football boots for grass pitches or sports shoes, and;

Sports shirt/top, shorts or tracksuit bottoms, as well as;

Snacks – it's a long day.
Packed lunch – if non-included.
Drinks bottle – refill available on site.
Hat & gloves are advisable in cold weather, and;

Warm rain jacket and spare clothes in case of adverse weather.

Hat/Cap & Sun cream should be worn during warmer weather when outside – parents should apply sun cream before arrival at camp.
Please label all clothing/equipment that your children bring.
For younger children, please make sure your child has been to the toilet before the start of the camp.
Girls-Only Summer Camp Times –
Please select your desired location