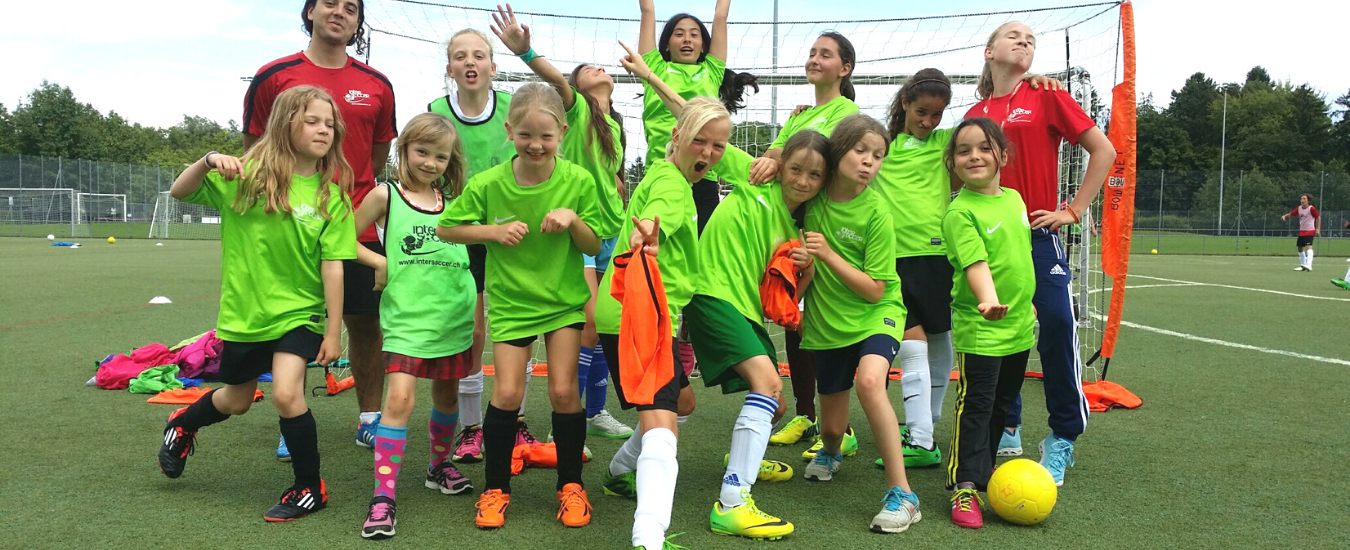 Spring is here and it's the perfect time to get your girls out on the field and playing Football by joining our Girls' Football Team! Our girls-only spring football courses are designed specifically for girls between the ages of 5 and 12 years old. InterSoccer's experienced female coaches are dedicated to providing a fun, safe and inclusive environment for girls to learn and play the sport they love.
Our weekend courses are packed with fun and engaging activities that are designed to improve your child's skills and confidence. Each session begins with a fun warm-up to get the girls moving and ready to play. Next, we focus on developing their technical skills through a series of exercises and drills. And, of course, we finish with a bunch of fun games and small-sided matches where the girls can put their new skills into practice.
Playing football is not just about scoring points, it's also about mastering essential life skills like working well with others, staying focused and developing self-assurance. For example, a girl who plays football can learn how to work with their teammates to strategize and execute plays, learn how to stay focused during the game and practice and during drills, and gain confidence in their abilities by seeing themselves improve.
Don't miss out on this opportunity for your daughter to improve her football skills, make new friends and have fun. Sign up for one of our Girls-Only Spring Football courses today and watch your child develop their skills and confidence on the field!
Girls Rule the Field: 25% off our Girls-Only Football courses with code GIRLS25 – Sign up before March 3 at Midnight
InterSoccer's Girls-Only Sessions Extras:
All year round Training Sessions
A friendly & safe environment with First-Aid qualified coaches

Billingual Coaches (English, French or German)

Available Combo Offers, Referral Options, Family Discounts 

A FREE TRIAL session!
Football for girls is available upon request and subscription. Girls can register for any other session & be part of mixed courses as well, giving flexibility for busy families. Contact us at info@intersoccer.ch to get the program.
If you would like a Girls Only course starting in your region please contact steve@intersoccer.ch to discuss further
How to join?
Payment to be made via Book Online before the start of the course, to guarantee your place and receive the best rate per session.
If a parent misses the Book Online deadline, then the pitchside payment (higher fee) should be paid by BANK PAYMENT (receive from coach or office) to secure your place.
Please see FAQ's for more info. Our current venue locations:

What to bring?
Print out the Book Online Confirmation and bring it on the first day

Soccer boots for grass pitches or sport shoes

Sports shirt/top, shorts or tracksuit bottoms

If courses are indoor -during winter, please, bring indoor sports shoes & make sure they are clean and non-marking.

Water bottle

Hat & gloves advisable in cold weather -if outside
Warm rain jacket -if outside

Hat/Caps & sun cream in summer 
Please label all clothing/equipment that your children bring.
For younger children, please make sure your child has been to the toilet before the start of the course.
Weekend Girls-Only Course Times –
Please select your desired season & location