On the occasion of the InterSoccer Summer Camps, English Premier League Club Everton FC will be sending two of their fantastic UEFA B qualified coaches to our camps.
The camps will be an excellent chance for children to improve their skills and techniques in a fun and friendly environment under the supervision of highly qualified coaches from Everton FC and InterSoccer.
There is certainly a camp in your area!
Geneva – Versoix – Lausanne
Everton Summer Camps Program
08:30 – 10:00
Early reception. The players can participate in activities or even relax until the start of football camp.
10:00 – 12:55
Warm ups. Fun games & exercises to help improve technical skills + movement & coordination
13:00 – 14:30
Hot Lunch break & Free time
14:30 – 17:00
Fun games, skills & technical exercises.
Small-sided Matches & Fun Tournaments
17:00 – 18:00 *
Children's departure
* Possibility to pick-up your children until 18h00 – option to be reserved in advance
The Coaches
To conduct these camps, we will have 4 coaches throughout the entire season.
In July, we have four very special coaches, all from Everton FC Soccer Schools, they're Mike Connolly, Connor Atkinson, Stacey McMahon, and Sean Robertson.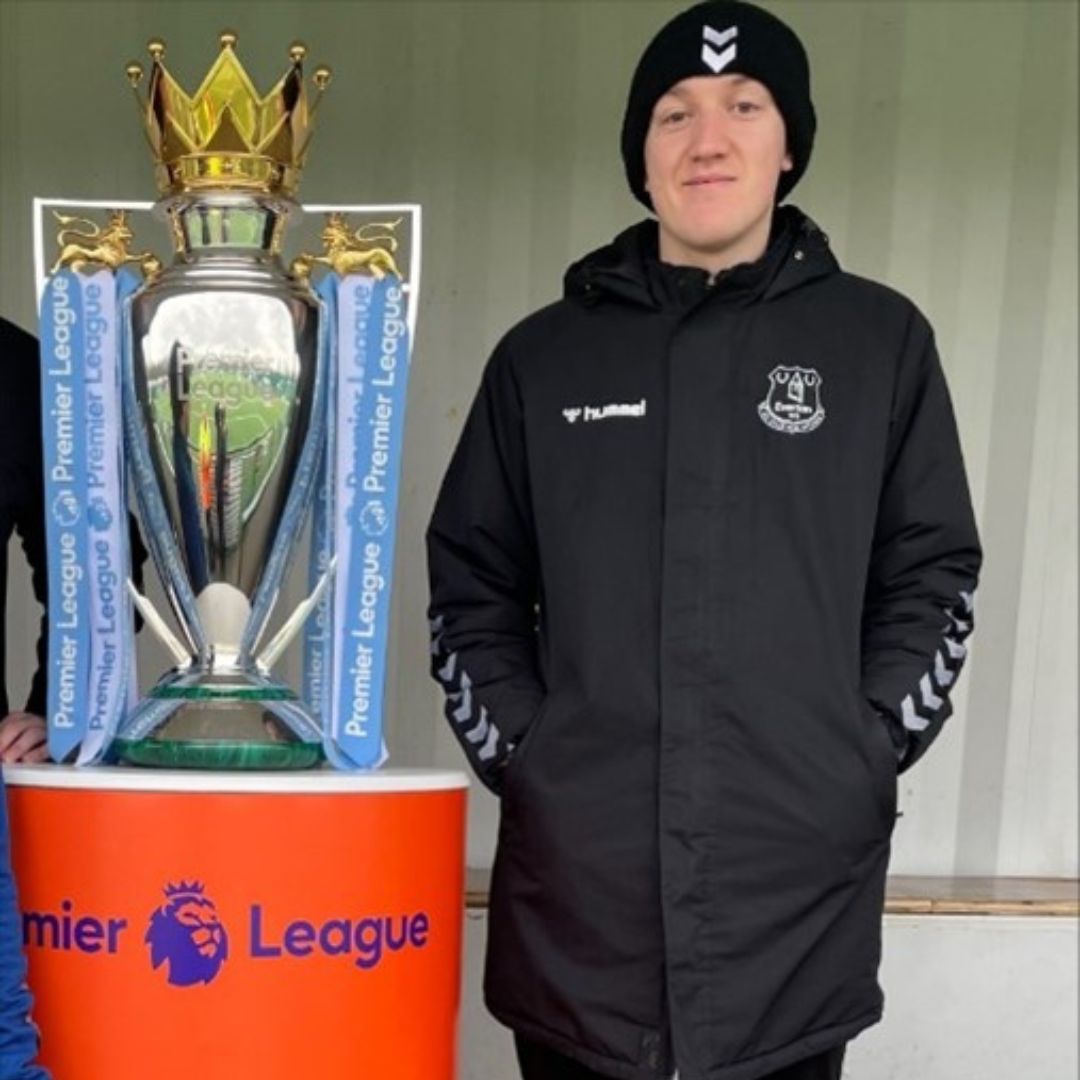 From Everton Soccer Schools, Connor is currently working on getting his UEFA B licence. His FA Level 2 and 6 years of experience at EFC make him a magnificent trainer for children from under 6s all the way to under 19s.
Connor started coaching when he was only 16 y.o, and his favourite lessons to teach are possession/attacking and defence.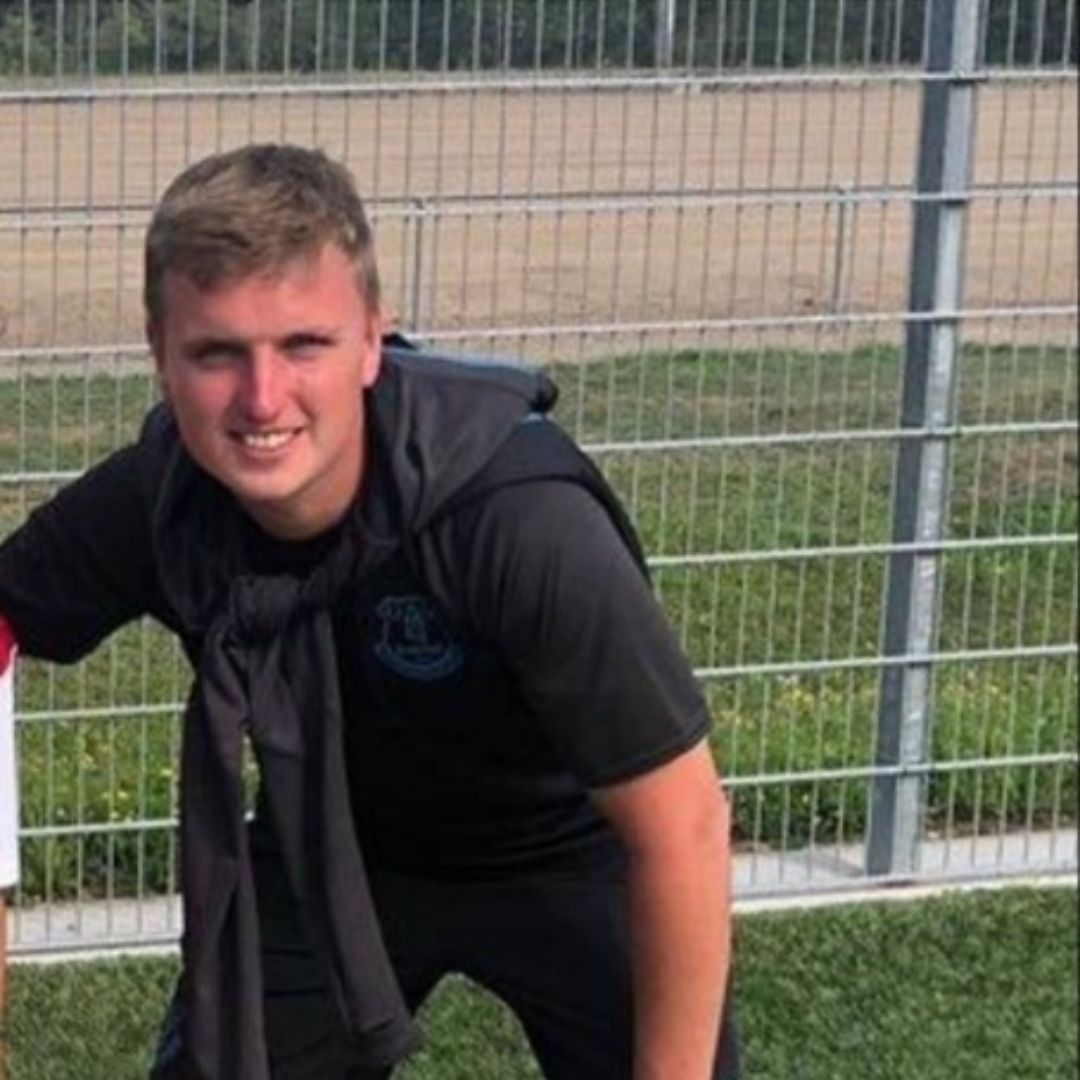 Mike is a UEFA B qualified coach, with Youth Mentoring Level 3 capabilities. He's worked at EFC for over 5 years, with over 8 years of training experience.  He previously worked in countries such as the UK, Ireland, USA & Switzerland. Furthermore, he trained children 8-14 years, and he likes to teach attacking overload exercises.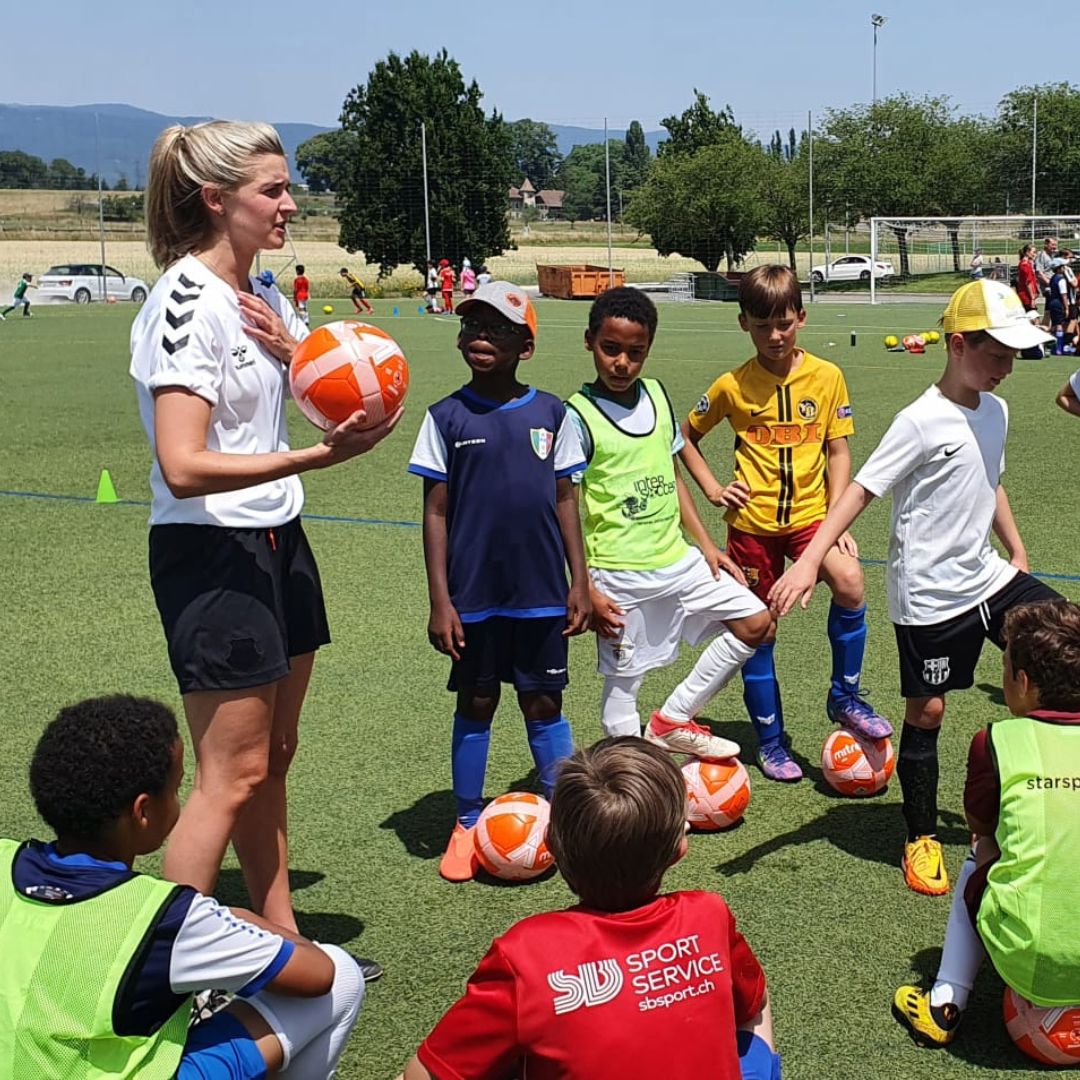 For our Girls-Only camps, we have a very special coach.
With over 10 years of experience in coaching, Stacey McMahon is a UEFA B qualified coach. She trained in countries such as England, America, and Dubai.
She's been training children from under 5 up to open age, for 5 years already at EFC.
Then in August, we will have one other coach joining the Everton FC Summer Camps. He's Dominic Doherty.
Sean is a UEFA B coach with qualifications in Youth Modules 1 & 2. This makes him comfortable coaching children from under 5s to open age, but he prefers coaching children under 9. Strong with 12 years of experience and 10 years at EFC, he's coached in multiple countries, such as UK & Ireland, Switzerland, Berlin, Hong Kong, and America. His favourite thing to teach is passing and possession-based drills.
Then last, but not least, in August, we will have one other coach joining the Everton FC Summer Camps. He's Dominic Doherty.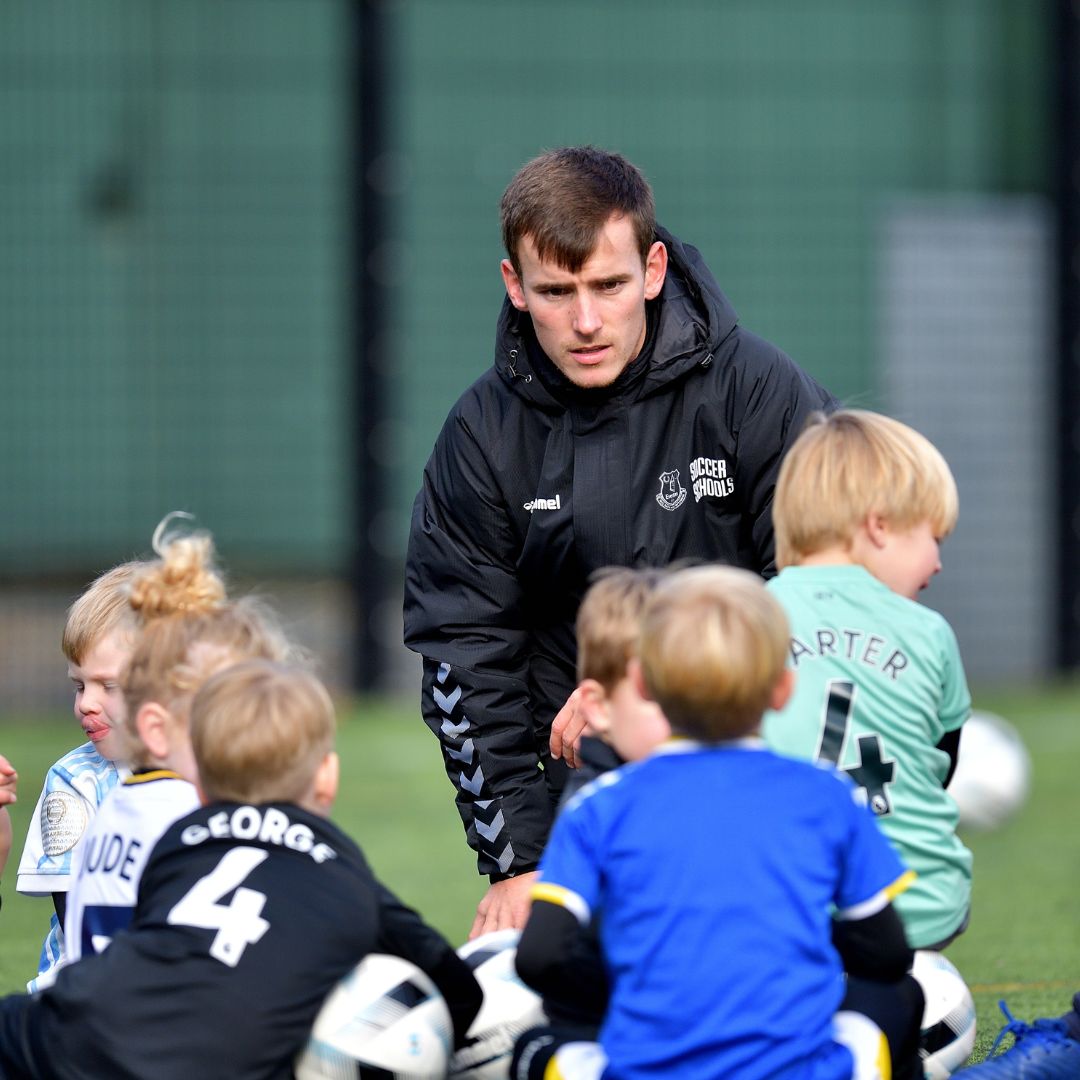 Dominic is currently awaiting to get his UEFA B Licence in November of this year, however, he's qualified with a FAW C licence. He's been training since he was 19 years old, in the US, UK and Ireland. Not only that, but he's been at Everton since October 2021. He has the ability to coach children as low as 4 years old.
Meals
Lunch is included on many sites during summer for All-day camps only.
The menu is adapted to the needs of our players.
We privilege healthy meals and propose menus including a starter, a main course and a dessert (fruits, ice cream occasionally in hot weather).
Depending on the region, we can adapt the menus for vegetarians, vegans and people with gluten or nut allergies. Just let us know when registering. Remember to bring additional snacks since the journey can be long.
Awards Ceremony: Funky Friday
Every Friday during the courses: the FUNKY FRIDAY, all the children and the coaches dress up, play, and organise the election of the best costume. A closing ceremony is organised to reward all players.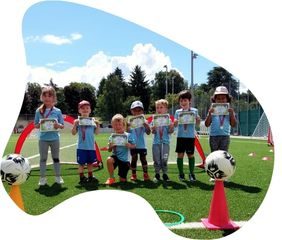 Everyone has a medal
A certificate of participation in the Summer Camps
A T-Shirt offered from 3 days of camp
The little extras that make the difference
Magical week for Boys and Girls of all levels
Two Everton FC coaches (UEFA B & English FA Level 2 qualifications), plus InterSoccer coaches offering friendly advice in a fun and safe environment
Early Drop-off from 08h30
Late Pick-up available until 18h00 – Option to be booked in advance
Flexibility: Registration from 1 to 5 days
FAMILY DISCOUNTS available
Bilingual/trilingual coaches
Multicultural environment
Possibility to learn English
Opportunity to meet new friends and build self-confidence;
Team-spirit, sportsmanship and fair-play are encouraged.
A friendly and safe environment with qualified first aid coaches.
Mini-matches & tournaments
International qualified coaches providing professional and fun training
Stimulating training and football challenges including dribbling, passing and shooting … etc
Other Age categories
At InterSoccer we also offer camps for girls and older children:
How to join?
Payment to be made via Book Online before the start of the camp, to guarantee your place.
Please see FAQ's for more info or the VENUES page for all venue locations.
What to bring?
Print out and bring the Book Online Confirmation.

Football boots for grass pitches or sport shoes, as well as;

Sports shirt/top, shorts or tracksuit bottoms, and;

Snacks – it's a long day.
Packed lunch – if not included.
Drinks bottle – refill available on site.

Hat & gloves advisable in cold weather.

Warm rain jacket and spare clothes in case of adverse weather.

Hat/Cap & Sun cream should be worn during warmer weather when outside – parents should apply sun cream before arrival at camp.
Please label all clothing / equipment that your child brings.
For younger children, please make sure your child has been to the toilet before the start of the camp.
Safety and code of conduct
Leave your children before games or training only after making sure that a coach is present.
It is the parents' duty to explain certain rules of good conduct so that the children agree to respect the team and coaches, as well as the equipment made available.
Prevention is always more positive than repression. Indeed, in the event of non-compliance with the rules during a camp or course, the latter will not be reimbursed.
Meteo
Whatever the weather conditions, our camps take place. Indeed, in case of bad weather, the coaches offer fun games, interactive activities and card games. In addition, many of our venues have indoor facilities.
*The children will have team building activities until the beginning of the camp. During this time, they will be proposed to play some quizzes and interactive activities. Some colouring books will also be provided.
Everton FC Soccer Schools Summer Camps –
Please select your desired location