Kick Off the Season: Sunday Soccer Revives the Spirit of the Game in Geneva this Autumn
A Thrilling Soccer Adventure for Young Stars
We are thrilled to announce that our highly anticipated Sunday Soccer course is making its triumphant return to Geneva this Autumn! The overwhelming demand from our enthusiastic young soccer stars and their families has led us to relocate the course to the prestigious Stade de Belle-Idée in Chêne-Bourg. This vibrant move is aimed at providing an even more dynamic and engaging learning environment for Boys & Girls of All Abilities.
A New Home for Soccer Enthusiasts
Our Sunday Soccer course will now find its home at the Stade de Belle-Idée in Chêne-Bourg, Geneva. This exciting change not only enables us to accommodate more young players but also promises a fresh and invigorating atmosphere for skill development and fun.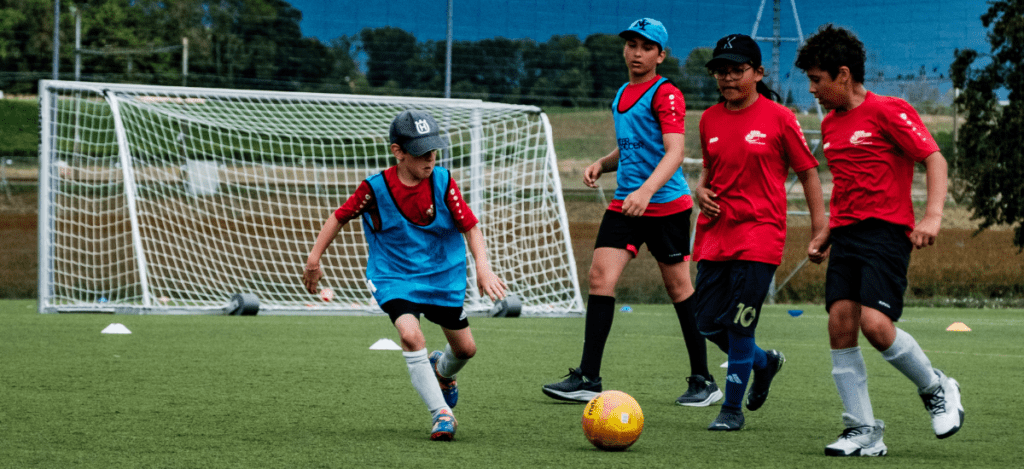 Conveniently Close
For those familiar with our previous venue at Stade de Frontenex, you'll be delighted to learn that our new location is a mere 5-minute drive away, making it easily accessible for families citywide to enjoy soccer.
Ample Parking for All
Parking woes? Worry not! Stade de Belle-Idée boasts a spacious parking area with plenty of spots available. Our commitment to your convenience and ease of access has guided our decision-making process.
Weather-Proof Enjoyment
We understand the importance of a seamless soccer experience regardless of weather conditions. That's why we are thrilled to share that we have secured indoor reservations at the Raymond Uldry School, just a short five-minute drive away. Starting from November 17, 2023, these indoor facilities guarantee that your child's soccer adventure remains unaffected by Mother Nature's whims.
A Range of Programs
Our Sunday Courses at Stade de Belle Idée in Geneva offer specialized football programs designed to accommodate children of different ages and skill levels.
Details at a Glance:
Venue: Stade de Belle Idée, Chem. du Petit-Pont, 1224 Chêne-Bourg
Indoor Gym Raymond Uldry, Chemin du Domaine-Patry 1, 1224 Chêne-Bougeries (from November 17, 2023 onwards)
Dates: September 10, 2023, to December 17, 2023
Session Timings:
Join the Soccer Adventure!
The excitement is building, and we can't wait to welcome your child to our captivating Sunday Soccer Courses in Geneva. Whether it's our Sunday or Weekday Football Courses, they are also available at Varambé (near Nations) and Belle Idée. Prepare for an incredible journey filled with learning, friendship, and the sheer joy of playing the beautiful game!
Stay tuned for more updates and watch as your child's soccer skills flourish in our dynamic new setting. See you on the field!