Carry on to play in Summer 2022! InterSoccer Coaches have prepared a great Summer Football Courses program in Zurich for Boys & Girls aged 3-12 years old.
It's time for lots of activities on the pitch and lively discussions on the Football topic with your new Friends! Summer Football Courses in Zurich run during the school term and provide training during the week as well as on weekends.
So why should you choose InterSoccer Summer Football Courses?
InterSoccer courses are not just about football. We preserve our values and follow our Motto: Fun, Friends, Football, Fair play. After completing pressured school weekdays, kids' minds need relaxation, happiness, and refreshment. We are creating paths for making good friendships and overcoming new challenges!
Moreover, our young Football players, as they delve into InterSoccer's environment, go through enthusiastic challenges, and, most crucially, learn how to deal with losses and disappointments too. Naturally, as they get older, they apply the acquired lessons to real-life situations.
Simply warm up like the stars, learn about tactics and be part of ou team in a fun & safe environment at one of our Great Outdoor Locations in Zurich: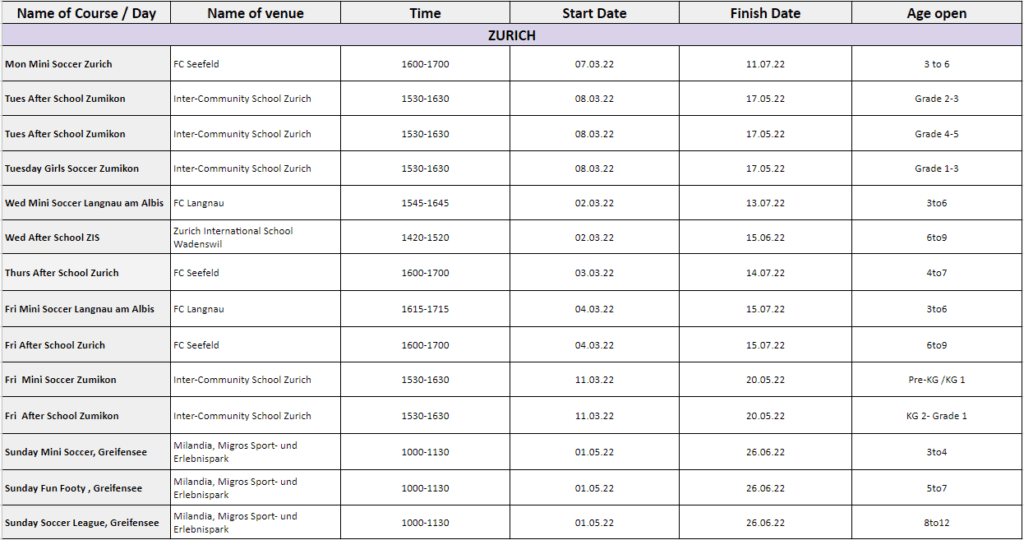 Our additional Benefits:
All year-round Training Sessions
A friendly & safe environment with First-Aid qualified coaches
Bilingual Coaches (English, French or German)
Available Referral Options and Family Discounts
A FREE TRIAL session!
Our partners are international schools, municipal stadiums and Jeunesse & Sport.
The registrations are open now! Take advantage of a great deal with our Combo Offer.
We are waiting for you in our team!
For further questions, please, contact info@intersoccer.ch.
CLICK HERE TO BOOK