This summer, InterSoccer will have the privilege to host football camps, all over Geneva, for boys and girls aged from 9 to 13 years, starting on the 28th of June until the 27th of August 2021. We will be able to count on the exceptional presence of David Joye, CS Chênois 1st team Head Coach, who will participate in our various camps this Summer!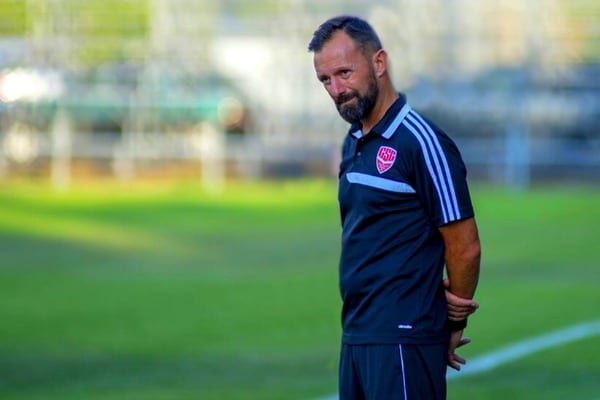 David Joye is a well-known football coach in Geneva's football scene. For almost 8 years, he has been CS Chênois Head Coach. Nonetheless, he has a large background when it comes to coaching Junior Football teams. For more than 5 years, David Joye has been responsible for Juniors teams such as FC Puplinge, where he trained E-D-C categories, and the Urania Genève Sport team.
With his solid background and experience, InterSoccer Academy Football Camps with David Joye's edition will have a high intensity of fun and entertainment, where children will be able to better develop their football skills, learn new techniques, playing tactics and improve their physical condition. In addition, some small friendly matches and tournaments are expected to take place during the programme, so children can learn about fair-play, sportsmanship and the importance of respecting their teammates as well as their opponents. All of this, played in a safe environment and followed by an UEFA A Licence football coach.
I cannot miss this opportunity! Where should I go?
28 June – 2 July @ Stade du Blanché, Grand Saconnex (Nations)
5-9 July @ Centre Sportif de Vessy (near Champel)
19-23 July @ Centre Sportif du Bout-du-Monde (near Champel)
26-30 July @ Stade de Frontenex (Cologny)
2-6 August @ Stade de Varembé (near Nations)
9-13 August @ Centre Sportif de Vessy (near Champel)
16-20 August @ Centre Sportif de Vessy (near Champel)
23-27 August @ Stade de Trois-Chênes (CS Chênois)
What do players get?
Players receive gifts after each camp:
Adidas Football Shirt, Medal & certificate of participation in the summer camp
Hot Lunches
Flexible – Book 1-5 days
Early drop-offs 08:30
Late pickups until 18:00 possible
Great coaching programme with fantastic UEFA A Licence coach to improve technical skills
Coaching on Ball Mastery, Passing, Dribbling, Shooting, tactics, physical conditioning
Plus lots of small-sided matches & mini-tournaments!
If you cannot make any of these venues with David Joye, don't worry! We have Academy Camps with great InterSoccer qualified Coaches running at all other venues (numbers permitting) each week of the holidays
For further questions please contact: info@intersoccer.ch
Our motto: Fun, Friends, Football, Fair-Play