InterSoccer believes everybody should play Football, especially at an early age. Hence, we are offering our Mini Easter Football Camps to those slightly too young for full days or who have just started playing.
Our Mini Easter Football Camps are specially crafted for the tender age group for Boys & Girls aged 3-5 yrs. Most noteworthy, this is a great way to introduce the younger ones to sports & engage them in healthy outdoor activities.
Mini Camps are the perfect opportunity to get your younger ones moving during the Spring, meeting new Friends from different places in the world & playing loads of Football! They are tailored to be Fun Camps before anything & ensure that your kids are safe!
Camps are running all over Swiss venues including: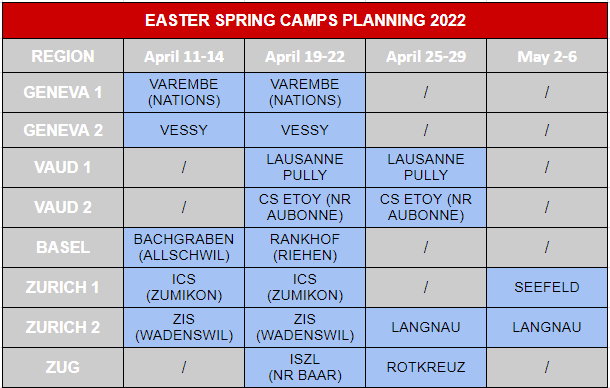 Why should you Join InterSoccer Mini Easter-Spring Camps?
For Boys & Girls aged 3-5 of all abilities
4 or 5-day Camps from Monday to Friday from 10:00–12:30
Possible to book 1,2 or more day or even the whole week, whatever fits your agenda
Early drop off possible from 8:30
A Fun morning in a safe environment with qualified, multi-lingual, experienced & understanding coaches
Learn basics like ball work, dribbling, passing & control, shooting
Play Fun games such as mini matches & tournaments
Each Child receives a medal
Improve fitness, knowledge of the game, teamwork & importance of Fair play
Great opportunity for beginners & newcomers to see if they like the Course
English is main language, but most coaches have a good knowledge of French & German
InterSoccer also offers full-day Camps for Boys & Girls aged 3-13 years old.
So, HURRY UP, it is still possible to Book Your Spot to have a great Spring full of Football & Fun!
If you are interested, please click here to BOOK ONLINE.