Join us this April and book now our Easter Soccer Camps across Switzerland!
Let your kids experience a spring made of full-time fun, joining one of our Soccer Camps. Enjoy one of our amazing bilingual camps, making new friends and training with great professional coaches!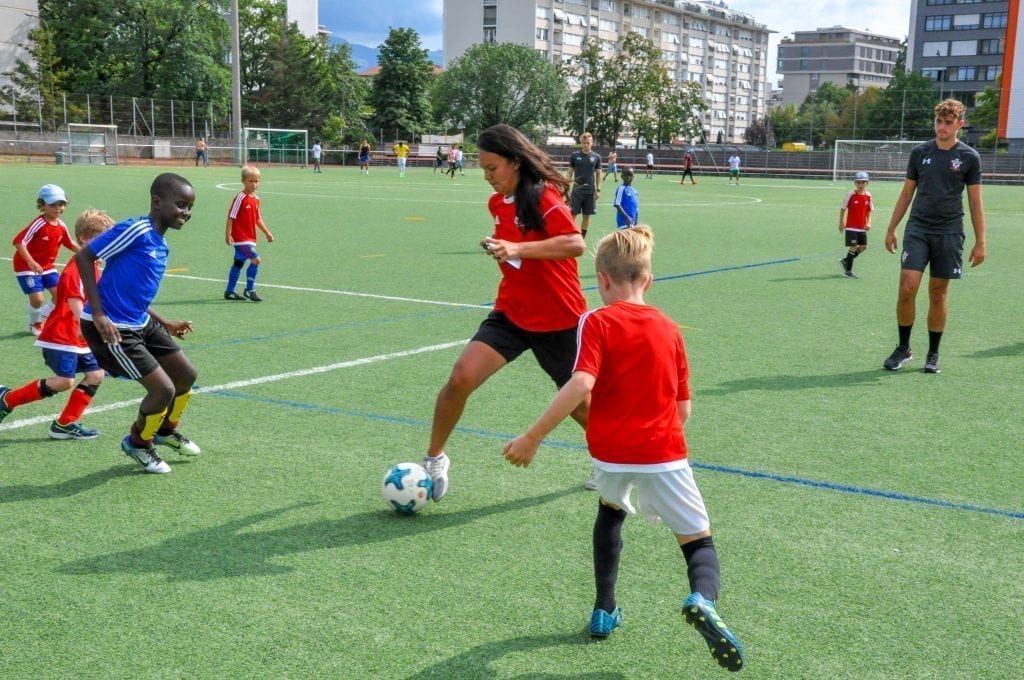 If you are looking for a fantastic Easter camp for your child during the school holidays, with plenty of fresh air, sport, games, new friends and lots of fun, why not try one of our football holiday camps? We have 11 outdoor venues across Switzerland. Camps will go ahead whatever the weather, and our first aid trained, qualified coaches have lots of ideas about what to do come rain or shine.
What is an InterSoccer Easter Camp? 
A once-in-a-lifetime experience! The coaches will prepare a program filled with fun games to learn new skills & improve the kids' techniques while keeping the amusement a center focus. Easter is late in 2019, which should mean great conditions for outdoor as well as indoor activities!
Our Camps are open to boys & girls aged 3-13 years. Playing abilities do not matter: it's the joy that soccer brings that counts! You can come just for one day, or up to 4 or 5 days at a time. To add to all of the football fun, there will be an Easter egg hunt at the end of some of our camps!
Mini Football Camp: 3-5 years (Mornings Only)
Mini Camps for players slightly too young for full day or have just started playing. 
For Boys & Girls aged 3-5 of all abilities

5-day football camps Monday to Friday from 1000–1230

You can also choose from 1 up to 5-day Camps in most weeks 

Drop off possible from 09h20

A fun morning in a safe environment with qualified, experienced & understanding coaches

Learn basics like ball work, dribbling, passing & control, shooting, mini matches, tournaments

Dazzling talent competitions, fun homework projects & lots of fun games

Improve fitness, knowledge of the game, teamwork & importance of fair play

A good participant to coach ratio using top coaches from different countries/cultures

Great opportunity for beginners and newcomers to see if they like the course

English is main language, but most coaches also have a good knowledge of French & German
Full Day Football Camp: 5-12 years
Full Day Camps for Boys & Girls aged 5-12 of all abilities 
Children are split into age and abilities

5-day camps from Monday to Friday 10:00-16:00/17:00

You can also choose from 1 up to 5-day Camps in

 most weeks 

Great fun way to develop soccer skills in a fun & safe environment

Early drop-off from 08h30 

Learn how to keep possession, teamwork, sportsmanship, goal setting

Dazzling talent competitions & fun quizzes

Have your shooting speed measured 

English is main language, but most coaches also have good knowledge of French & German
Practical information
– Family Discounts are possible
Children will need packed lunch and plenty of fluids
Dates & Locations
EASTER CAMPS IN GENEVA
VERSOIX – Centre Sportif Versoix
(April 8 – 12)
Full Day Camp: 10:00 – 16:00
Mini Camp 10:00 – 12:30
GENEVA – Varembé
(April 15 – 18)
Full Day Camp: 10:00 – 17:00
Mini Camp 10:00 – 12:30
[Wednesday 09:30-12:00]
(April 23 – 26)
Full Day Camp: 10:00 – 17:00
Mini Camp 10:00 – 12:30
GENEVA – Centre Sportif de Vessy
(April 15 – 18)
Full Day Camp: 10:00 – 17:00
Mini Camp 10:00 – 12:30
[Wednesday 09:30-12:00]
GENEVA – Bout-du-Monde
(April 23 – 26)
Full Day Camp: 10:00 – 17:00
Mini Camp 10:00 – 12:30
EASTER CAMPS IN VAUD
LAUSANNE – Pully
(April 15 – 18)
Full Day Camp: 10:00 – 16:00
Mini Camp 10:00 – 12:30
(April 23 – 26)
Mini Camp 10:00 – 12:30
LAUSANNE – Pully
Everton Soccer Schools Easter Camp
(April 23 – 26)
Full Day Camp: 10:00 – 16:00
NYON – Nyon Colovray
(April 15 – 18)
Full Day Camp: 10:00 – 16:00
Mini Camp 10:00 – 12:30
[Wednesday until 13:00]
ETOY – GEMS Academy
(April 23 – 26)
Full Day Camp: 10:00 – 16:00
Mini Camp 10:00 – 12:30
EASTER CAMPS IN BASEL
BASEL – Bachgraben, Allschwil
(April 15 – 18)
Full Day Camp: 10:00 – 17:00
Mini Camp 10:00 – 12:30
BASEL – Rankhof Station
(April 23 – 26)
Full Day Camp: 10:00 – 17:00
EASTER CAMPS IN ZURICH/ZUG
ZURICH – InterCommunity School Zurich
(April 8 – 12)
Full Day Camp: 10:00 – 16:00
Mini Camp 10:00 – 12:30
(April 15 – 18)
Full Day Camp: 10:00 – 16:00
Mini Camp 10:00 – 12:30
ZURICH – Seefeld
(April 23 – 26)
Full Day Camp: 10:00 – 16:00
(April 29 – May 3)
Full Day Camp: 10:00 – 16:00
Mini Camp 10:00 – 12:30
ZUG – International School of Zug & Luzern
(April 23 – 26)
Full Day Camp: 10:00 – 16:00
Mini Camp 10:00 – 12:30