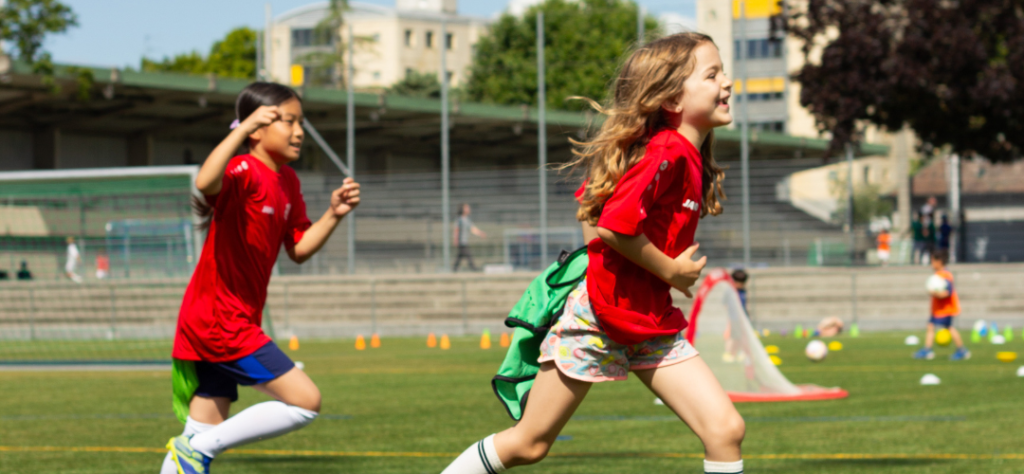 Introducing Our Autumn Football Courses 2023 : Unleash Your Child's Potential!
Are you ready to witness your child's passion for football soar to new heights? Look no further! Our Autumn Football Courses for Girls & Boys aged 3 to 13 of All Abilities are here to make their football dreams a reality. We offer Courses in Zurich, Geneva, Vaud, Basel & Zug.
At InterSoccer, we believe that every child deserves the opportunity to embrace the beautiful game, regardless of their skill level. Whether your little one is a budding superstar or taking their first steps onto the pitch, our courses are designed to nurture their abilities, boost their confidence, and ignite their love for the sport.
Expert Coaching: Our team of experienced and certified coaches are passionate about football and dedicated to creating a positive and inclusive learning environment. They know exactly how to bring out the best in each child, providing individual attention and guidance to enhance their skills, technique, and tactical understanding.
All Abilities Welcome: We firmly believe that football is for everyone. Our courses are tailored to accommodate children of all abilities, whether they're beginners or advanced players. We focus on skill development, teamwork, and fostering a sense of belonging, ensuring that every child feels valued and motivated to excel.
After-School and Weekend Options: We understand the demands of busy schedules, which is why we offer flexible course timings. Choose from our after-school or weekend sessions to find the perfect fit for your child's routine. Our goal is to make it convenient for families to engage in their child's football journey without any hassles.
Holistic Development: Football is more than just a game; it builds character, instills discipline, and teaches valuable life skills. Our Courses go beyond technical training, emphasising important values such as teamwork, sportsmanship, resilience, and leadership. Your child will not only grow as a footballer but also as an individual, ready to face any challenge that comes their way.
Sign up now for our Autumn Football Courses 2023, together, we'll inspire a new generation of football enthusiasts, fostering a lifelong love for the beautiful game.